Class Committee
Acting Chairman and font of knowledge on all matters Sigma
Nigel Goodhew
Bought Persephone in Jan 04 – which is raced as a family boat,(Karen is the real power behind the throne) They also enjoy cruising and have an Atlantic crossing and back to their names ! Winner of the memorable 2011 Fastnet and 2nd in the 2013 Fastnet sailing double handed against fully crewed teams !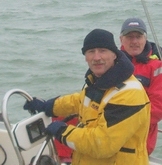 Treasurer and Offshore Enthusiast
Jon England
Jon and his crew on Vitesse were the first Sigma in the 05 Fastnet despite beating up an unidentified cargo ship somewhere off the Scillies. A good man for offshore advice – except perhaps collision avoidance!
Class Chairman and Ex Submariner finally enjoying fresh air
Rob Lee
Following a career under the seven seas onboard one of Her Majesty's finest, Rob got a taste of life above the waves, crewing on Persephone. It was such fun, he and Mrs L decided to buy Kindred Spirit which he has subsequently supercharged for the current season.
Atlantic Veteran and double handed expert
Vanessa Twohey
"It's only a bloody yacht race"
Rob Denning
A very enthusiastic, excitable species often found in Antigua . Likes nothing better than a glass of red wine after a cracking days sailing!
Last updated 09:12 on 9 November 2017