Hamble River Winter Series Mid Series Summary
Published 08:27 on 27 Oct 2016
The Sigma 38 Class is once again fielding one of the largest one design entries in the prestigious Hamble River Winter Series, always a popular event for the iconic British class. Nine boats are entered, each having overcome its own individual issues to get out racing. All skippers knows it's never just a case of getting to the start line. Preparing the boat, sorting out the logistics, organising the crew and prising open the wallet are constant challenges which require dedication and "a fair wind". All these factors combine to throw up interesting tales either of the boats themselves or individual crew members. In no particular order here's a summary of the competing boats.
Tim Levett's Machismo II sailing out of Cowes is back in the Solent after competing in West Highland Yachting Week, a unique regatta taking in three venues; Craobh, Oban and Tobemory as well as enjoying wonderful Scottish cruising. Neil and Fiona Holden, on Paracelsus sailing out of Gosport, like the JOG racing format and have had a successful 2016 offshore campaign finishing in the top five. Michael and Yvonne Fenlon owners of Gallant have worked spectacularly hard on building a crew and are reaping the benefits with some fourth places. It's been great to welcome class stalwart and treasurer, Jon England, back on to the race course. A mixture of signifiant boat maintenance and grandfather duties have mean Jon hasn't been able to get out on his beloved Vitesse. Following an impressive season on With Alacrity, a number of significant birthdays and holidays have meant Chris and Vanessa Choules have had to widen their crew pool. Fortuitously the two teenaged daughters of their diminutive but formidable mainsheet trimmer, Karen Main (her real surname) have stepped into the breach. Jessie and Ellen are already accomplished dingy sailors so they have taken to it "like ducks to water". Following a lengthy and major rebuild this year on Kindred Spirit Rob and Julie Lee have chartered their almost new boat to "Girls for Sail". On Light, owner Richard Kern is getting to grips with his new instruments and firmly guiding the helm around the course. As with many other boats in the class students from Southampton University have joined the crew but Light is particularly thrilled to have Piers Kampman, who many of the "old" crew have already sailed with in St. Tropez. Anna and Andrew Gordon juggle two full time jobs and two young children to campaign Pandanova. They have their eyes firmly set on the 2017 Fastnet and are using this series to recruit and build a crew. As usual other Sigma 38 owners have been spotted crewing, Brian Skeet from Marta on Paracelsus and Sigmania's David Linton on With Alacrity.
The smiles and laughter out on the race course and in the bar afterwards demonstrate that all the effort is well worth it. The series is halfway through in time terms and with seven races already completed and four more scheduled no doubt more stories for the Sigma 38 memory book will transpire. The extracted Sigma 38 results are below as well as the link to some outstanding photos by Paul Wyeth, one of the most accomplished Marine photographers anywhere.
http://www.hamblewinterseries.com/photos
See you after the break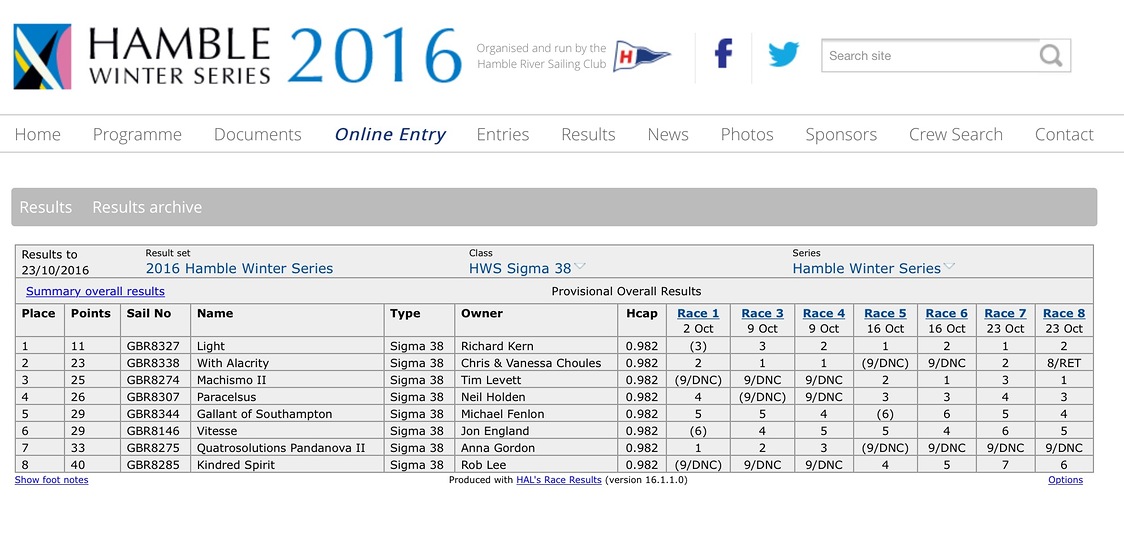 Last updated 08:27 on 27 October 2016